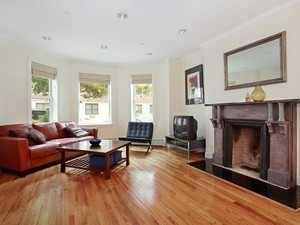 Susan V. Hazeldean and Heather L. Betz sold a two-bedroom, two-bath condo at 597 President St. in Brooklyn to John S. Kushner and Cecilia Kushner for $725,500 on Sept. 24.
Hazeldean and Betz paid $650,000 for the property in Feb. 2005. The 832-square-foot Unit #1 is part of the
597 President St. Condo
development, which was built in 1905.
Hazeldean
is an associate research scholar in law and the Robert M. Cover clinical teaching fellow at Yale Law School.
Previously, she was director of the Peter Cicchino Youth Project of the Urban Justice Center.
She received her bachelor's degree from the University of North Carolina and her J.D. from Yale University.
Betz
is a senior staff lawyer at the HIV Law Project in Manhattan, which provides free legal services to people with HIV.
She received her J.D. from the City University of New York.
According to
BlockShopper.com
, there have been 16 condo sales in
Brooklyn
during the past 12 months, with a median sales price of $899,500.