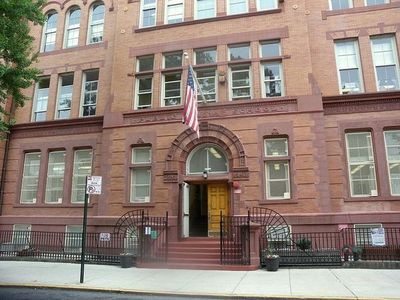 Ana Salper and Jason Cowart sold a condo at 123 Prospect Park W. to Jonathan J. Viner and Emily M. Viner for $649,000 on Sept. 23.
Salper and Cowart acquired the property for $650,000 in July 2005. Unit #38 is one of the 38 in the six-story condo development at 123 Prospect Park W. in the
Park Slope
neighborhood.
Salper
is a member in the New York office of Epstein Becker & Green, where she practices in the areas of labor and employment law.
She previously was an associate in the Washington-based firm of Krupin O'Brien LLC.
She received a degree in history from Columbia University and a J.D. from the Northwestern University School of Law.
Cowart
is a partner in the New York office of Pomerantz Haudek Grossman & Gross LLP. He practices in the areas of securities litigation and antitrust litigation.
Prior to this, he was an associate at Sidley Austin and legal clerk for U.S. District Court Judge Richard A. Enslen at United States District Court for the Western District of Michigan.
He received a degree from the University of Michigan and J.D. from Northwestern University.
According to
BlockShopper.com
, there were 4,643 sales in
Brooklyn
in 2008, with a median sales price of $450,000.