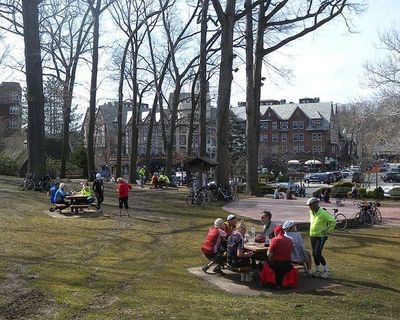 Scott C. Halyard IV and Kelli E. Halyard bought a five-bedroom, 3.5-bath home at 7 Wayside Lane in Scarsdale for $1.35 million from Steven Kessner and 7 Wayside LLC on Feb. 21.
The 3,400-square-foot house, built in 1960, is in
Scarsdale North
.
Scott Halyard
is a vice president at CastleOak Securities, a financial and investment services company.
He graduated from Georgetown University and received his M.B.A. from Columbia Univerrsity.
Kelli Halyard
is a director of communications and community relations at CBS News in New York.
She graduated from the State University of New York-New Paltz and received a master's degree in journalism from Columbia University.
According to
BlockShopper.com
, there have been 10 home sales in
Scarsdale
during the past 12 months, with a median sales price of $1.19 million.
Address: 7 Wayside La
Buyer(s): Kelli E Halyard and Scott C Halyard IV
Seller(s): Steven Kessner and 7 Wayside LLC
Sale date: Feb. 21, 2012